Technology
The Full-Depth Disinfection Cycle
The Full-Depth Disinfection Cycle (FDDC) technology provides a process to disinfect air and surfaces from all harmful pathogens, such as virus, bacteria and even the so-called superbugs, the antibiotic resistant bacteria.
The FDDC is the only technology that applies a full air purification process after biological disinfection. It removes all the remaining oxidant gases as well as the harmful by-products, such as particles and nano-particles.
This provides for re-entering the room shortly after the disinfection cycle is complete. Comparatively, all other disinfection solutions leave residual gases and harmful particles.
The biological disinfection is done by using a mixture of atomized water and activated oxygen (ozone). The gaseous treatment reaches pathogens everywhere, in every nook and cranny, without any shadow areas. Because of its way of action, even the antibiotic resistant bacteria such as MRSA and VRE will not resist this disinfection.
Download the STERISAFE™-Pro brochure in PDF here
---
Definition:
STERISAFED: adj.; free from pathogens, chemicals, by-products and harmful particles following a FDDC treatment.
---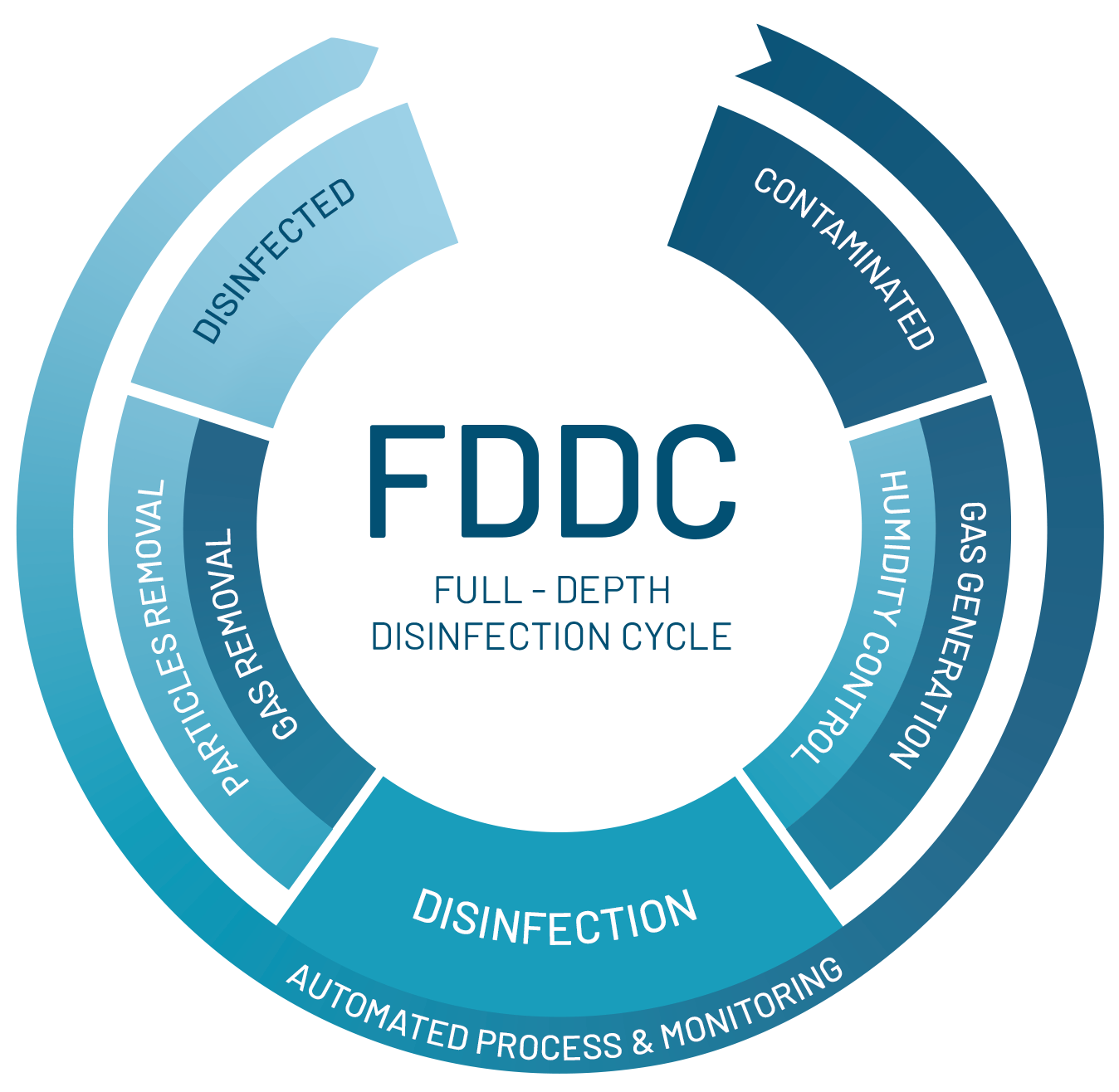 Studies demonstrate that less than 50% of surfaces in patient care rooms are being adequately cleaned because of inadequacies in traditional cleaning/disinfection methods and procedures.
Atomized water and ozone are created in-situ using only electricity and ambient air. This activated gaseous mist is diffused into the whole room using a powerful built-in fan.
The biocidal effect of the FDDC technology has been documented by independent third-party laboratories. Read more about it here.
Once the disinfection is accomplished, the process is reverted and the ozone is turned back into pure oxygen, removing all remaining gas.
All gaseous or UV solutions are based on oxidative compounds. While having a biocidal effect, they also react with other molecules. This will create particles and nano-particles which are potentially harmful. FDDC is the only technology that also remove these particles after disinfection.
After the FDDC treatment, the room is STERISAFED. It is free of pathogens, chemicals, by-products and particle. It is biologically and chemically safe.
The FDDC provides unique way to perform whole-room disinfection: quickly, easily and safely.
No consumables
No residues
No particles
Fast treatment
High efficacy against bacteria, virus, fungus and spore documented
Entirely automated and monitored
Easy to use