Efficient NF T 72-281
Protect patients with whole-room disinfection by the NF T 72-281 norm
With Sterisafed hospital rooms, operating theaters and laboratories you protect patients from Healthcare-Associated Infections (HAI's)
Every year over four million Europeans enter the health care system for treatment, but are given a life threatening infection instead. HAI's are linked to nearly 150,000 annual deaths in Europe alone. They kill at least 37,000 people directly and are a contributing factor in an additional 110,000 deaths.
One in three Healthcare Associated Infections could be prevented with better hospital hygiene.
Documented by independent test facilities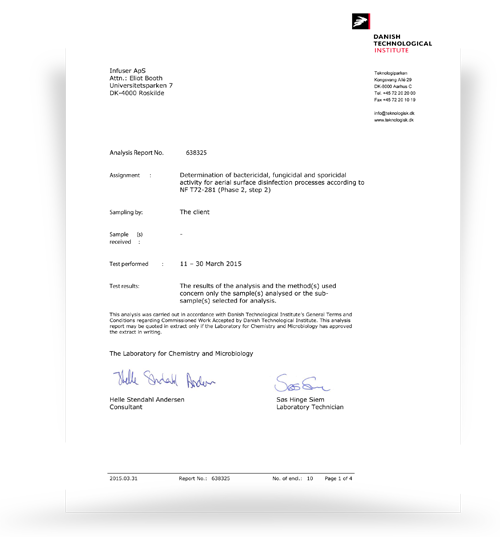 STERISAFE™ technology has been documented by the Danish Technological Institute as a uniquely reliable way to kill bacteria and virus. Especially in hard to reach areas as under bedrails and doorknobs and behind equipment and furnishing. Tests conformed to the French AFNOR-norm NF T 72-281.
Not just disinfected?  Sterisafed is autoclave grade!
STERISAFE™ technology is uniquely efficient even against multi-drug resistant bacteria such as MRSA and VRE.  One treatment cycle will kill up to 99.9999 percent of some bacteria in the room. That is as good as an autoclave. It removes 99.99 percent of other germs present matching the best performance of systems based on ultra violet lamps. Unlike UV-lamps, it also cleans hard-to-reach surfaces such as under beds and behind furniture and equipment.
Safety  for operators, staff and patients
STERISAFE™ technology completely removes ozone, by-products and particles from the room at the end of the disinfection cycle. This considerably reduces the treatment time for each room. It also means, that as soon as the Full-Deep Disinfection Cycle is over, it is safe for staff and patients to re-enter the room.
Documented cleaning efficacy
Germ

Type

Log reduction

E.coli*

Bacteria

6.2

Listeria M.*

Bacteria

7.7

Candida A.*

Fungus

4.1

VRE*

Bacteria

5.5

Adenovirus**

Virus

4.2

Staph. Aureus*

Bacteria

6.0

Enterococcus H.***

Bacteria

6.0

Pseudo aeruginosa*

Bacteria

6.99

E. faecium*

Bacteria

6.73

Proteus mirabilis*

Bacteria

≥ 5.8

Norovirus**

Virus

≥4.96

MVA**

Virus

4.7
* Tested by Danish Technological Institute according to NF T 72-281
** Tested by Dr. Brill + Partner GmbH Institute for Hygiene and Microbiology according to NF T 72-281
*** Tested by INFUSER ApS and Metropolitan University College according to NF T 72-281
Superbugs eat poison for breakfast. Multidrug-resistant bacteria
More and more bacteria are becoming immune to more and more of the antibiotics designed to exterminate them.
MRSA or methicillin-resistant Staphylococcus aureus normally cause mere skin infections. In hospitals, MRSA trigger life-threatening bloodstream infections, pneumonia and surgical site infections.
VRE or Vancomycin Resistant Enterococci usually live peacefully in the human intestine. In healthcare setting the bacteria is increasingly associated with potentially lethal infections of the urinary tract, bloodstream, or in surgical wounds.
Counting germs. The Log reduction measurement method
Germs such as bacteria are counted in the millions and even billions. Some can double in number every fifteen minutes, so microbiologists have to use shorthand to describe the percentage of bacteria killed by any given disinfection treatment. This so-called "Log reduction measure of disinfectant efficacy" counts the percentage of pathogens still able to carry infection after a treatment
1 log reduction = 90% reduction- Manual cleaning
2 log reduction = 99% reduction- Manual disinfection
3 log reduction = 99.9% reduction- UV-light
4 log reduction = 99.99% reduction- FDDC
5 log reduction = 99.999% reduction- Autoclave/ FDDC
6 log reduction = 99.9999% reduction- Autoclave/ FDDC
What germ? Disease causing pathogens
Viruses are small pieces of genetic material surrounded by a thin protein coating. Some are so virulent that they can infect even bacteria.
Bacteria usually consist of DNA and some cellular machinery within a fatty membrane. These cause anything from strep throat to life threatening diseases.
Fungi can cause skin infections and pneumonia. These are particularly dangerous to patients with diseases that weaken the immune system.